School of Water Scarcity is an artistic research project aiming to investigate and exchange knowledge and practices from different disciplines, creating awareness and proposing humble strategies to overcome cultural, political and economic limitations in Sicily and Tunisia, focusing specifically on issues related to water mismanagement. Topics range from the preservation of biodiversity, cultivation of local native and non-native varieties, issues of water distribution and filtration, data collection, strategies of resistance and the involvement of consumers.
As a continuation of the Syndicat! Summit in 2022, the dinner splash substitutes the daytime conversation program to offer a more interactive format that involves invited participants in a practical, research-based manner of sharing their knowledge while simultaneously providing the pleasurable context of cooking and eating together in a shared experience, possibly developing a manual for the public to follow. The dinner activities are hosted in conjunction with Eliza Collin's WET ZONES kitchen.
SCHOOL OF WATER SCARCITY is produced by Fondazione Studio Rizoma and supported by the Rosa Luxemburg Foundation Tunis.
Project Design and Curation: Izabela Moren | Past and current participants: Amine Bounouh, Sarah Ben Romdane, Heythem Smida-Guesmi, Alaa Marzougi, Costanza Pizzo, Zeno Franchini (Marginal Studio), Luca Cinquemani and Fabio Aranzulla (Aterraterra), Enrico Milazzo, Melissa Carnemolla, Chachou, Bilel El Mekki, Habib Ayeb | Production: Giorgio Mega and Youssef Ettourjoumene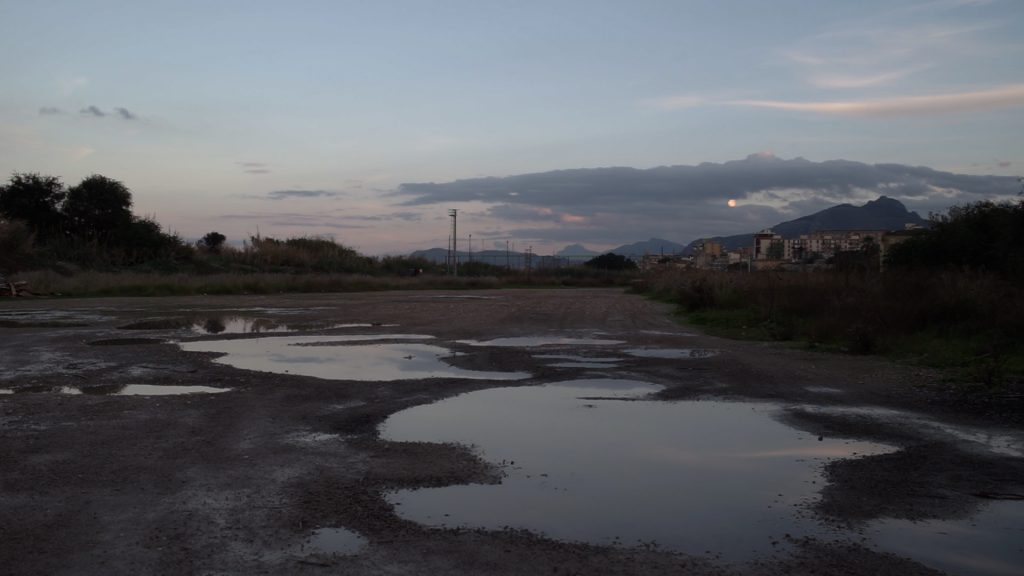 Palermo is not a water-scarce city. It receives water from many springs, wells and reservoirs due to the artificial damming of rivers. Historically Palermo can boast of one of the most intricate and sophisticated water systems. However, today, over 50% of this water is lost before it reaches domestic spaces. Though the water in the basin is not scarce, the cities resulting in overconsumption inevitably lead to the quickening desertification of the surrounding countryside. Once used, the water reaching the domestic space is often not cleaned properly before being discharged into rivers and oceans, devastatingly affecting these ecosystems.
How we dirty and dispose of water today contributes to a global shortage of fresh water and leads us into a future of complex remediation to ensure enough clean water. Contributing to this, we have also disrupted the natural water cycle through deforestation and the pulling of groundwater. Cities survive on the surrounding resources; many are designed for goods to enter and waste to leave. Water is one of the most essential substances on the planet today, it is infinite, yet its quality is finite.
WET ZONES suggests a not-so-distant future where localised water recycling presents a short-term solution that allows for this finite resource's regulated consumption, disposal and reclamation. Mitigating damaging water habits and paving the way towards circular cities, the outdoor kitchen unit proactively explores a kitchen water filtration system, using localised production and materials; the used water entering the system will be channelled through a range of filters which remove contaminants before being purified to safe standards for reuse or discharge. This process invites us to address how we use water, what we put into it, and our day-to-day water habits; however, it does not aim to demonise the domestic but to provide temporary agency over our own water habits, sending a clear message to those in positions of power, our desired water futures.
—
Eliza Collin (1993) is a London based designer who graduated from the MA Material Futures in 2021. Underpinning Collin's research and design approach is a specific deep interest in the perceptions and values we place on resources, within this, water futures has been the current priority domain.
—
The project is part of SCHOOL OF WATER SCARCITY, produced by Studio Rizoma and supported by the Rosa Luxemburg Foundation Tunis.
Research and artistic direction: Eliza Collin | Curation: Izabela Anna Moren | Realisation: Marginal Studio | Production: Giorgio Mega | Camera Operator: Genny Petrotta | Support: Peter Scheer, Gianluca Concialdi, Genny Petrotta, Hanna Rasper, Vanessa Rosano, Grazia Bommarito, Massimiliano Rotolo, Valentina Mandalari, Cristina Alga, Tiziana La Melia, Giuseppe Barbera, Gloria Culotta | Interviews: Tommaso la Mantia, Salvatore Stellino and son, Nicola di Fiore, Manfredi Leone, Danisinni inhabitants, Caterina Miranti, Salvo Equizzi | Co-design workshop: Pietro Airoldi, Anastasia Lobanova, Geraldina Signa, Luca Cinquemani and Fabio Aranzulla, Sergio Calabrese and Zuri Camille de Souza