Niccolò Milanese, co-founder of European Alternatives together with Ophélie Masson, Coordinator of Citizens Take Over Europe
The main challenge you are addressing in Palermo with the Assemblies of Solidarity is preventing environmental disaster. How can citizens' assemblies help unlock more effective action against climate change?
NM — We can't go through a summer in which the south of Europe burns and the north floods and not react. We are on the brink of a disaster, and our political institutions are simply badly adapted to address issues which affect every part of our lives, across all borders. This means we have to establish new institutions, new ways of doing politics which bring in a much wider set of actors and stakeholders, and, crucially, clearly identify opportunities to force our way through the doors of older institutions.
OM — By the end of 2021 Citizens Takeover Europe will have organised more than 20 citizens' assemblies in twelve countries. Climate change and environmental issues affect everyone, regardless of age, gender, race, or socio-economic background. However people with different identities are affected in different ways, hence the importance of making sure participants are diverse enough to be representative of the actual struggles of the population.

Can a citizens' assembly really change something?
NM — It can feel like everyone is doing citizens assemblies these days! The citizens assembly we're organizing in Palermo is different from some others: it is organized really from the grassroots, not by the state; it is transnational in bringing people from across Europe together; and it is backed by civil society organisations in Citizens Takeover Europe who commit to follow up on the recommendations emerging from the assembly: we won't simply hand over our ideas to the EU or some other authority and hope something happens, we will take this as the starting point of ongoing campaigning over the coming years, and indeed a new way of building transnational citizen-powered transnational campaigns with many organisations involved.
OM — Our citizens assembly relates to a moment when the EU is promising to do European politics differently: the Conference on the Future of Europe is an initiative coming from the European institutions which says it is citizen centred. We organize an independent citizens assembly, to hold this promise to account – this is our foot in the door of the institutions. And we all know that the EU is one of the most important actors in the world when it comes to addressing climate change.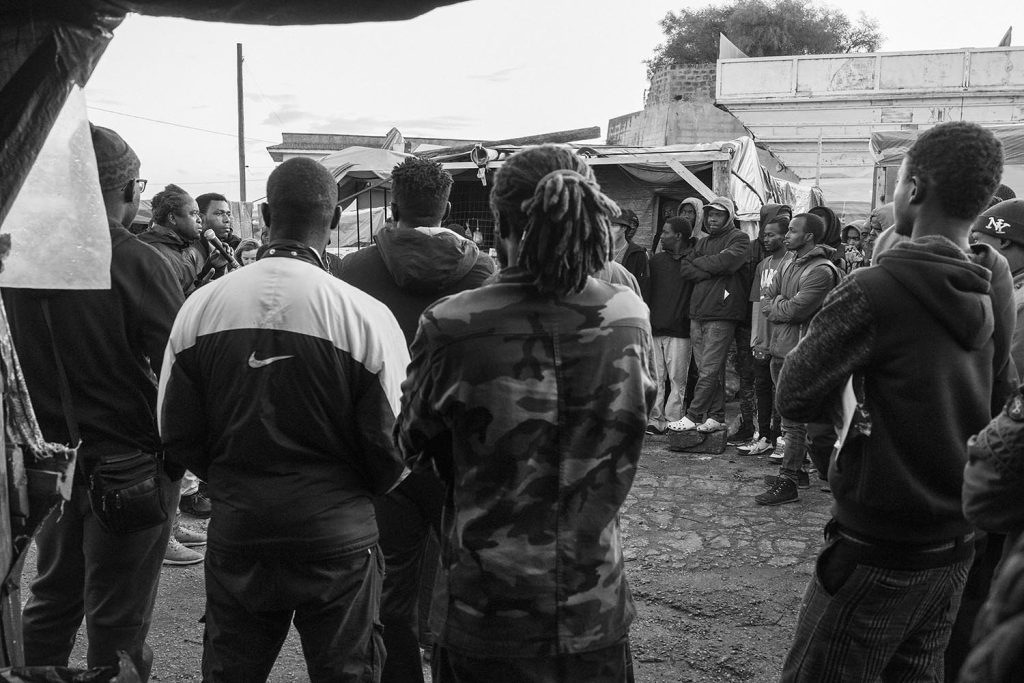 Why have you chosen Palermo to organise this assembly and how does this connect to the synergies that 'Between Land and Sea' is establishing with Tunis and the peripheries of the Mediterranean?
NM — European Alternatives already ran an international conference on social and ecological justice in Palermo in 2019, and since then our reasons to continue are only stronger. Italy concentrates many of the contradictions in European governance, to the extent that now the former European Central Bank governor who is the unelected Prime Minister appears to many as the savior of democracy!
OM — Palermo represents the struggles that the South has been through over the summer of 2021, with almost uncontrollable fires that destroyed hectares of forest and biodiversity. We want to show that political participation means decentralising politics, and connecting across borders and even continents. Bringing the voices and experiences of people from Tunis into a citizens assembly on avoiding climate disaster may seem strange to some people in the capitals of Europe, but makes total sense seen from Palermo.
Assembly of Solidarity is a citizens-led engagement and communications project, aiming at connecting groups that are disproportionately affected by Covid-19. The project consists of a series of assemblies made by and for citizens, to raise awareness on key topics revolving around three main pillars: Democracy and fundamental rights, Social Europe and Health, Environment and climate change.